I got this tag from Luana! Thanks dearie! 🙂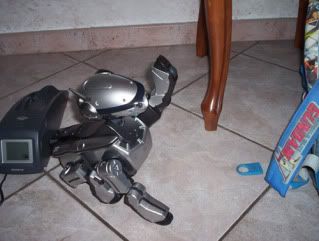 Little Orion, robotic son of Luana, says hi to the world! And wants to know more about you. Make him happy?
It's very simple to make little Orion happy!

1- Post 5 facts about yourself.
a. I was a hard core gamer.
b. Violet lover.
c. I'm a call center agent.
d. I love to blog.
e. I started a family of my own at the age of 21…
2- Post a photo of yourself.

Baby Julie and Me!
3- Share this tag!
I'm sharing this to all the bloggers in my blogroll. :cute:
*** Select the whole tag and get its HTML codes to repost it on your blog. Do not remove the links on the picture and on Luana's name! ***