Got this award from Vanniedosa! Thanksie for this, I kick ass? 😛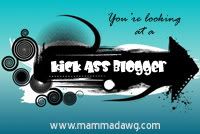 Do you know any bloggers that kick ass?
Maybe they've got incredible, original content. Or they're overflowing with creativity. Is it someone that helps you become a better blogger? Or a bloggy friend you know you can count on? Or maybe it's someone who simply inspires you to be a better person… or someone else who sends you to the floor, laughing your ass off.
Whatever the reason may be, I'm sure you know at least a couple of bloggers that kick ass. Well… why not tell 'em so?
LOVE ON 'EM
Choose 5 bloggers that you feel are "Kick Ass Bloggers"

Let 'em know via email, twitter or blog comments that they've received an award

Share the love and link back to both the person who awarded you and back to www.mammadawg.com

Pass it on!
To get the code for the image you can go back tomamadawg.com – don't forget to link up the person who nominated you for the Kick Ass Blogger Club.
My Nominees are:
Pinay Mommy Online – she has been my blogger idol from the very start! I love you mommy!
Brown Pinay – I always wondered how she does it… Working and blogging at the same time! I can't seem to stay awake after a long hard working day! 🙁
Aeirin's Collection – has been so helpful to me especially when I needed the directions on how to go to Market! Market!
Mom Knows Everything – Tammy has never failed to leave comments on my blog, I love her for that, and the advices that she has been giving me ever since from the first time we became blogging friends. I love her layout color too! ^_^
The Weakness Inside & Bacon Gaming – I know that these are two blogs, but they are both my best friends so spare me this. =) You guys know why I love them both! ^_^ Best friends will always be best friends no matter what. And their blogs are really insightful too. =)