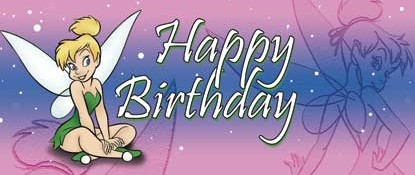 After days of contemplating on which way to go, we decided to have Julie's birthday at Jollibee this coming July 24. I know it would be 10 days after her birthday but since her birthday (July 14)  falls on a Wednesday, and payday's gonna be a bit off as we need to save up for her little birthday bash, my husband and I decided to have it the Saturday after my payday (21st).
We don't know which Jollibee branch yet though. My mom said that Tayuman branch is better since there's a playground a big "lounge" area for the adults, but I think that's a bit far from our house, but we'll see.
My mom's also excited and it's obvious since she bought a pink dress for Julie! Kawaii~~~ Julie even calls herself "princess". What a cutie!
So here's the plan (in no specific order):
1. Inquire how much the party package would be.
2. Invite guests.
3. Reserve a cake (I'm pretty sure that Julie would want the one with Tinkerbell – I think I saw one in Goldilocks or something)
4. Buy Julie a present.
5. Move my VL.
I hope everything turns out well! I'm now excited!