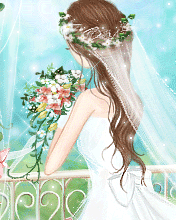 My cousin got married last July 14, 2008 (same date as my baby's birthday) at Zamboanga. We were invited, unfortunately, we were unable to attend due to the fact that it was my baby's birthday and that it was a bit of a short notice.
We were sent a DVD copy of the wedding and boy was I jealous. My cousin's wife had a very nice wedding dress, complete with accessories and make-up. The church was nicely arranged, and decorated, and they had a very organized entourage. The reception was a beautiful underwater theme, and the wedding cake? Don't even ask… It sure was an expensive wedding! Somehow a non-practical way for celebrating an event yet it sure was a memorable one for the couple, and I bet it is more memorable to the bride.
While I was watching the DVD, I got really jealous and remembered my "unplanned" wedding. I never had an entourage, not even a wedding dress. I just put on a white dress and that was it. The wedding AND the reception was held here in my house. A judge came over and did his thing. We were wed with no wedding cake, but only with the usual foods that we prepare when there's an event. It was somewhat memorable to me but in somewhat a not-so-nice way. Of course it is memorable but we all know that girls had always been planning for their dream wedding ever since they are kids, right?
Well I did. I wanted an outdoor wedding. Simple and cozy. I wanted to put on a sexy wedding dress but not the loooooong one. I just wanted an outdoor garden wedding. But I doubt it's possible here in the city. Oh well. I guess I'll just dream on.
Someday… If we become rich, I'll get that dream wedding of mine.