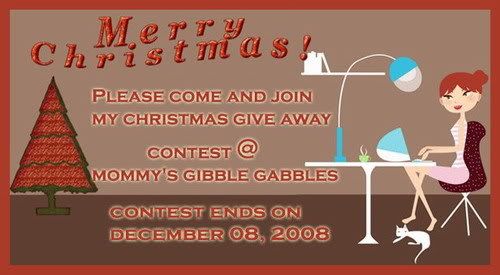 Mommy Darlene is having a Christmas giveaway contest on her blog. It's a great way of giving and showing love for all the people around the world through this contest. Why do I say so? Winners will feel the mommy's warmth from the blanket and scarf that she will be giving away, which I would love to have (the pink scarf would do *wink*), surely everyone feels that the holiday is fast approaching. Imagine… 33 days before Christmas!
And the good thing is that the contest will end in December 08, 2008, so no worries if you can't make a post today, you have ample time to join in! 🙂
Also, here are the prizes as well. Cool prizes for the winners and thanks to the sponsors too!
FIRST PRIZE
1. Checkered Pink and Blue Blanket size 73 x 73 inches (click HERE for the picture)
2. 3 column blog layout designed by My Web Blog Designs
3. 3000 EC credits courtesy by Twerlermz Blog
4. 2500 EC credits courtesy by Techicardia
5. 2000 EC credits courtesy by Fil-Am Gallery
6. 2000 EC credits courtesy by Wonderful Things In Life
7. 2000 EC credits plus 1 month ad courtesy by Pink Hues
8. 1500 EC credits courtesy by Twinkletoe Writing Space
9. 1500 EC credits courtesy by Fit 4 All
SECOND PRIZE
1. Furry Orange Scarf for winter (click HERE for the picture)
2. 2 column blog layout designed by The Designer's Chic
3. 1000 EC credits plus 1 month ad courtesy by The Positive Side
4. 1000 EC credits plus 1 month ad courtesy by Random Chronicles
5. 1000 EC credits courtesy by The Joy Of Life Forever
6. 1000 EC credits courtesy by Pinay Endeavor
7. 1000 EC credits courtesy by My Life My World
8. 1000 EC credits courtesy by Lourdes Mia
9. 1000 EC credits courtesy by Pinay Mommy Online
THIRD PRIZE
1. Furry Pink Scarf for winter (click HERE for the picture)
2. 1000 EC Credits courtesy by Mommy Earns Money Online
3. 500 EC Credits courtesy by Ask Ms. Recipe
4. 500 EC Credits plus 1 month ad courtesy by Chronic Chick Talk
5. 500 EC Credits courtesy by Embrace Simplicity
6. 500 EC credits courtesy by Wiehanne Contest
7. 500 EC credits courtesy by Sweet Paradise
8. 500 EC credits courtesy by My Life's Adventure
9. Blog header courtesy by My Design Work Bench