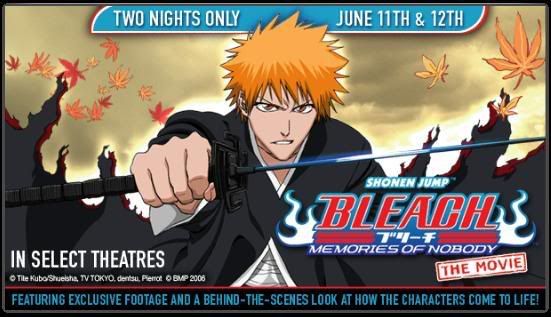 Oh my gosh! One of my favorite animes is going to have a movie! I can't believe that it has been so long since I watched animes on TV or DVD's due to busy schedule. But good news to all Bleach fans out there, of course that includes me, the creator of the ever so popular manga and animated series Bleach, Tite Kubo announced that at 7:30PM of the 11th and 12th of June, Bleach the Movie: Memories of Nobody will be shown on selected North American theaters. There will also be an exclusive footage and behind-the-scenes look on the people behind the characters and an interview with the director himself!
Want to know how to get tickets in advance? Just click on the link and there you will find the theaters where the movie will be shown. If you see a theater that is just around your corner, I suggest you grab one now because the seats are LIMITED! The link will also tell you a little bit about the movie.
Hmmm… I have been talking about mangas lately… and come to think of it, I wonder if I was a manga character, what will my name be? …I got it! It will be… MAMORI MAYOKE which means "protection amulet". Cool eh? I will be the leading character's protection, I will give him the needed guidance and safeguard him from the evil. And of course, I will be his love interest as well. *wink* How about you? What will your manga name be?