This is from Pink Notes Diary, thanks dearie! :kiss:
This award came from Mommy Imelda:
Here are the rules:
1. Copy the loyal picture above
2. Pass it to you think who is/are deserving.
3. Leave a message to them
4. Pass as many as you want.
5. Message back or leave a comment to the owner.
For this award, I'm passing this to:
nadine
Pink Note
aprilmae
And lastly, I got this one from The Redhead Riter: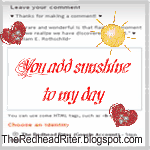 Thanks for these girls! It means a lot to me for you gals to remember me in the amidst of my busy schedule. I'll certainly make it up to you all by visiting and commenting to your bloggies! 🙂